2023 Aspire: Educator Symposium
Date: November 5-November 7, 2023
Location: Sheraton Virginia Beach Oceanfront Hotel
2023 Aspire: Educator Symposium
Date: November 5-November 7, 2023
Location: Sheraton Virginia Beach Oceanfront Hotel
Save the date for Aspire, the I'm Determined Educator Symposium, taking place November 5-7, 2023 at the Sheraton Virginia Beach Oceanfront Hotel! This is an in-person event limited to 100 educators. We anticipate this event filling quickly, so do not hesitate to register once we open it up!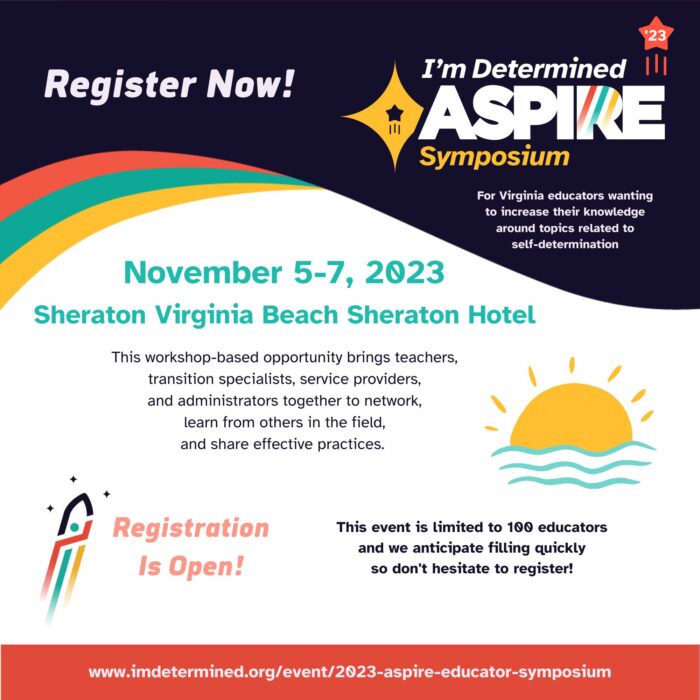 About
Aspire is an annual event designed specifically for educators wanting to increase their knowledge around topics related to self-determination. This workshop-based opportunity brings teachers, transition specialists, service providers, and administrators together to network, learn from others in the field, and share effective practices.
This year you will be able to hear from educators in the field, who are implementing self-determination practices. Possible topics may include:
Competence, Autonomy, and Relatedness (CAR)
Elements of I'm Determined
Building a Culture Around Self-Determination
Planning and Leading Self-Determination Projects or Events
Student Involvement in the IEP
I'm Determined Tools
Registration
Registration is now full! Thank you for all the interest. If you were not able to get a spot, we'd like to hear from you to see if you'd be interested in a virtual option where you could access the information and sessions that are going to be presented at the live event. Please fill out the survey below to be added to the waitlist and to let us know what you'd be interested in learning more about.
Draft Agenda
The agenda below is a basic outline for planning purposes. Details may change before the event, but start and end times will likely remain the same. A detailed schedule will be sent to all attendees closer to the date of the event.
November 5, 2023:
5:00 p.m. – 6:30 p.m. – Hotel & Event Check-in for those staying overnight
6:30 p.m. – 8:00 p.m. – Dinner & Networking (Dinner will be available for guests staying overnight on November 5th. No scheduled sessions)
November 6, 2023:
7:30 a.m. – 8:30 a.m. – Wellness Activity (optional)
8:30 a.m. – 9:30 a.m. – Check-in and Breakfast
9:00 a.m. – 4:00 p.m. – Sessions (lunch included)
4:00 p.m. – 5:00 p.m. – Appetizers and Networking
November 7, 2023:
8:30 a.m. – 9:30 a.m. – Breakfast
9:30 a.m. – 1:00 p.m. – Sessions, closing youth panel (lunch included)
Contact Info