The Youth and Parent Summit is a three-day event held each June and sponsored by the Virginia Department of Education and the Partnership for People with Disabilities. Youth with disabilities from across the Commonwealth meet to network and discuss issues of importance to youth and young adults with disabilities.
This year, due to safety concerns connected to COVID-19, the event will again be online. This Virtual Summit will follow a similar feel to the face-to-face events in that it will include a welcome from VDOE representatives, sessions for youth which were prepared with the help from our state youth leaders, sessions for parents, a keynote address, an assistive technology lab, and exhibitor information focusing on Virginia resources for youth with disabilities.
This will be our second year hosting a Virtual Summit. We have learned from the successes of the 2020 event, and are planning on building new opportunities for the 2021 event. Our main focus will be offering opportunities for youth and parents to connect, learn and practice self-determination skills, ask questions, and have conversations.
The Virtual Summit is scheduled for June 14-17, 2021. We will focus on the quadrants of our One-Pager: Strengths, Preferences, Interests, and Needs (SPIN) as a way to continue to learn about self-awareness, the choices we make, and how we can continue to set ourselves up for success in a world that looks much different than it did a year ago. As details are finalized, the new information will be added to this page. We appreciate your patience as we continue to build this event.
Applications – Applications are typically collected during January and February in order to give our team enough time to work out room assignments. Since this event is virtual, we do not need as much time. This year, instead of applications, we will be allowing Virginia youth with disabilities to register to attend, meaning all who meet the requirements and register on time will be accepted. Registrations are open until May 7, 2021.
An event schedule will be provided closer to the event date (not before May).
When: June 14-17, 2021
Where: Online! A link will be provided to registered youth closer to the event.
Who: The Youth Sessions are created for Virginia youth with disabilities 13-21 years old, and the parent sessions are created for parents and family members who support their youth.
Applications: This year, instead of applications, we are accepting registrations until May 7, 2021. All who meet the requirements and register in time will be invited to participate in this year's event.
Register
How do I register?
Virginia youth with a disability, ages 13-21 may now register by clicking the "Register Now" button below. Registration will close May 7, 2021. Late registrations will not be accepted.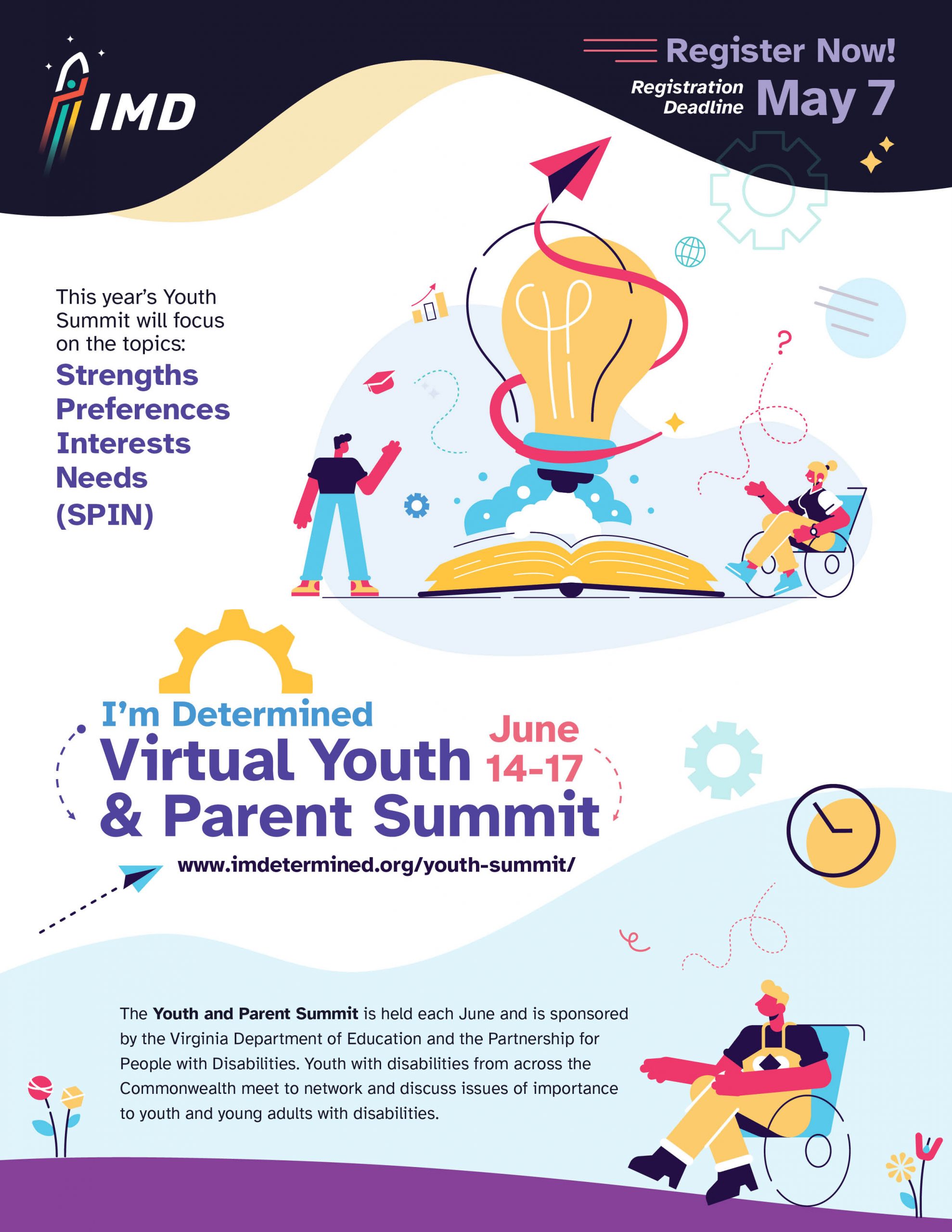 Days Until 2021 Virtual Youth & Parent Summit!